HVAC Unit Cleaning
Back To Our Services
An HVAC unit that's able to work without any issues can really make life a lot more convenient for you, especially during the summer or winter months. We often don't think about the importance of cleaning this unit because its condition isn't really something we notice, until something goes wrong, that is. However, neglecting to have your HVAC unit cleaned can result in reduced energy efficiency and re-circulating contaminants into your indoor air. Our technicians understand the importance of clean air and can get your unit running smoothly and efficiently again if it breaks down for some reason.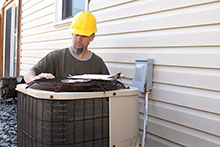 Regular Cleaning and Maintenance
Have you ever thought about the amount of times you breathe in an out during the course of just one day? Every intake of breathe introduces thousands of dust particles and pathogens into your respiratory system. If any part of your HVAC unit is malfunctioning, the quality of the air inside your property can be compromised, which means you'll be breathing in a lot more irritants and contaminants than usual. It's therefore very important that your air filters are replaced before they become fully clogged, so that your indoor air quality will be fresh and clean and you'll avoid suffering from respiratory issues.
Speedy Repairs Are Crucial
The moment you realize there's something wrong with your HVAC unit you should call our qualified technicians to come and inspect it. Whether your unit is making unusual noises or you have noticed an odd smell coming from it, we have the expertise to troubleshoot the issue and root out the problem quickly and effectively.
Give Us a Call
Our experts at Air Duct Cleaning Playa del Rey are ready and waiting to help you with whatever you need. We'll clean your HVAC unit to perfection and repair any damage it may have sustained.